Renowned actress Toni Collette, aged 50, was filled with admiration for Grammy-winning artist Taylor Swift during the Cincinnati leg of her highly anticipated Eras Tour in Ohio. Collette, known for her remarkable performance in The Sixth Sense, took to Instagram the following day to express her gratitude and awe towards Swift.
A Captivating Night with Taylor Swift: Toni Collette's Gratefulness and Inspiration
In a captivating carousel of highlights shared on her Instagram account, the accomplished actress wrote, "Thank you, Taylor Swift, for an unforgettable night last night!" Collette emphasized Swift's unparalleled talent and boundless generosity, acknowledging her immeasurable impact on the world.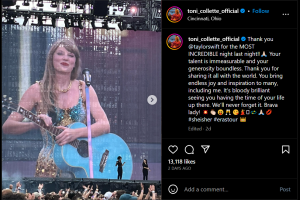 She conveyed her immense joy and inspiration while witnessing Swift's energetic and vibrant stage presence, emphasizing the significance of such experiences for both herself and her children.
Collette concluded her post with a resounding "Brava lady!" accompanied by a series of emojis reflecting her mixed emotions, encapsulating the depth of her appreciation for Swift's musical prowess.
A Tribute to Taylor Swift's Influence on Young Minds: Toni Collette's Heartwarming Story
Furthermore, the acclaimed star dedicated another tribute to the talented singer, specifically highlighting the influence Swift has had on her daughter, Sage Florence, aged 15. Collette, who also shares a son named Arlo Robert with her estranged husband David Galafassi, revealed a heartwarming anecdote about her daughter's English class. The students were tasked with identifying whether excerpts of writing were penned by William Shakespeare or Taylor Swift. Astonishingly, they often mistook Swift's lyricism for that of the iconic playwright. Collette marveled at the timeless and ageless nature of Swift's musical storytelling, expressing her gratitude for her daughter's exposure to such remarkable female artists as Taylor Swift and Billie Eilish, recognizing their talents as songwriters and musicians.
Taylor Swift's Era Tour: A Journey of Captivating Performances and Global Recognition
Taylor Swift's Era Tour continues to captivate audiences as it progresses into the next year, featuring additional international stops, marking an ambitious milestone in the artist's career. Audiences worldwide are eagerly awaiting Swift's electrifying performances as she solidifies her status as one of the music industry's most exceptional talents.
(Islamabad51-Newsdesk)