Taylor Swift's highly anticipated Eras Tour continues to draw an impressive lineup of celebrities and famous couples, and the recent leg of the tour in New Jersey was no exception.
Actor Miles Teller and his wife Keleigh, who exchanged vows in 2019 after a six-year courtship, graced the event with their presence. Accompanying them was none other than football player Aaron Rodgers, who enthusiastically captured moments from the concert on social media.The MetLife Stadium witnessed an outpouring of excitement from the attendees, as the concert unfolded over the weekend.
Aaron Rodgers Joins the Celebration, Rocking Out to Taylor Swift's Hit : 
In an exclusive video obtained by TMZ, Aaron Rodgers, the NFL star, could be seen fully engrossed in the Taylor Swift experience. He passionately rocked out to her iconic 1989 hit "Style," raising his arms in the air as the singer belted out the tune. Rodgers, renowned for his ardent appreciation of Swift's music, expressed his thrill at the opportunity he and his wife Keleigh had to star in the Grammy-winning artist's music video for "I Bet You Think About Me" in 2021. Keleigh herself took to social media, joyfully captioning a series of photos with the musician, expressing their unwavering fandom with the words, "@taylorswift we STAN. I will be your invisible bride any day."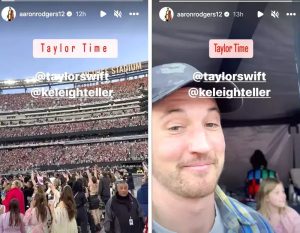 Taylor Swift Lauds Miles Teller and Keleigh in Cheeky Video : 
Swift reciprocated the admiration in a playful video directed by Blake Lively, which revolved around taunting an ex at his wedding. In her social media post, Swift expressed her gratitude to Miles Teller for his exceptional dancing skills and friendship, writing, "So grateful to Miles for being the greatest dance partner and friend to me." She didn't forget to mention Keleigh Teller, whom she referred to as the "coolest living human on planet earth." Swift playfully added, "The bride was willing to risk it all."
Aaron Rodgers Confirms His Devoted Fandom : 
During a recent interview on SiriusXM's Mad Dog Sports Radio, Aaron Rodgers openly shared his deep admiration for Taylor Swift. Confirming his plans to attend the Eras Tour concert, Rodgers emphasized his status as a devoted fan. With his love for Swift's music well-known, Rodgers eagerly looks forward to experiencing the electrifying performances firsthand.
The Eras Tour: A Star-Studded Affair that Leaves a Lasting Impression : 
With each passing show, Taylor Swift's Eras Tour continues to captivate audiences with its star-studded appearances and the artist's mesmerizing performances.
The concert in New Jersey showcased the presence of notable celebrities and beloved couples, further adding to the tour's allure. Swift's ability to create unforgettable memories for both fans and celebrities alike is a testament to her immense talent and enduring appeal.
(Islamabad51-Newsdesk)