LAHORE: The Punjab government, under the leadership of interim Chief Minister Mohsin Naqvi, has announced a four-day holiday for regions in the province severely affected by smog.
This decision was disclosed during a press conference on Tuesday. The designated holiday period will commence on Thursday, coinciding with Iqbal Day, a national holiday, and extend until Sunday.
The government aims to alleviate smog-related issues through this measure. The holiday will apply to the Lahore Division, including Lahore, Kasur, Sheikhupura, and Nankana Sahib districts, as well as Gujranwala and Hafizabad.
In addition to this, a health emergency will be declared, as stated by CM Naqvi. The provincial authorities had previously considered implementing an additional weekly off, but due to the improving situation, they opted against it, emphasizing their commitment to continuous monitoring.
The IQ Air data reveals alarming Air Quality Index (AQI) readings, with Lahore at 374, Multan at 442, Pindi Bhattian at 257, and Rawalpindi at 175. An AQI in the range of 101 to 150 is considered unhealthy for sensitive groups, 151 to 200 is unhealthy, 201 to 300 is very unhealthy, and 301 to 500 is deemed hazardous.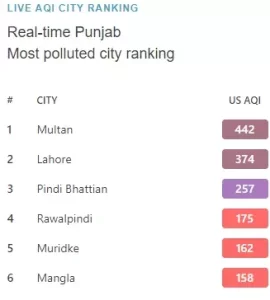 To further address the issue, a national holiday will be observed on November 9, with schools and offices in Punjab set to be closed on November 10.
Chief Executive Naqvi clarified that schools are typically closed on Saturdays and Sundays, but if any school remains open on this particular Saturday, they will be required to close.
Additionally, markets are scheduled to be shut on Saturdays, and, if feasible, traders may choose to close on Friday as well.
Naqvi urged the public to stay indoors for four days, emphasizing that this decision was reached after careful consideration of the situation.
(Islamabad51_Newsdesk)