ISLAMABAD: The leader of the Pakistan Muslim League (N), and former Prime Minister, Nawaz Sharif, has returned to Pakistan after four years, and his special plane has landed at Islamabad Airport.
Nawaz Sharif's plane entered the range of Islamabad's air radar and was greeted by Islamabad Traffic Control.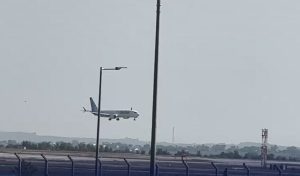 Welcome from Maryam Nawaz
Upon Nawaz Sharif's return home, PML-N's chief organizer and his daughter, Maryam Nawaz, welcomed him through a message on their official social media account.
میری زندگی کا شاید آج سب سے بڑا دن ہے۔ میں اللّہ ربّ العزت کی شکر گزار ہوں۔ جتنے دکھ اور تکالیف نواز شریف نے پچھلے 24 سالوں میں سہے، شاید ہی اس کی کوئی مثال ہو، اور انکے کچھ زخم ایسے ہیں جو کبھی نہیں بھر پائیں گے مگر جتنے عروج بھی نواز شریف نے دیکھے وہ بھی شائد کسی اور کے حصے میں…

— Maryam Nawaz Sharif (@MaryamNSharif) October 21, 2023
In her message, Maryam Nawaz said, "Today is probably the most significant day of my life. I am grateful to Allah Almighty. The pain and suffering that Nawaz Sharif has endured in the last 24 years are almost incomparable, and there are some wounds that will never heal. However, the rise Nawaz Sharif has experienced is probably unlike anyone else's."
Maryam Nawaz further stated, "Today, God willing, Pakistan is going to witness another rise of Nawaz Sharif! Welcome back, Nawaz Sharif."
Departure from Dubai
The former Prime Minister departed for Islamabad on a special flight from Dubai on Saturday morning.
Nawaz Sharif initially traveled to Saudi Arabia from the British capital, London, and later arrived in Dubai on Friday.
The leader of the Muslim League (N) met with some important personalities in Dubai and, on Saturday morning, began his journey back to Pakistan on the special flight 'Omid Pakistan.'
A significant number of Muslim League (N) workers and journalists also traveled to Pakistan on the same special plane.
Previously, a substantial number of League workers were present at Dubai Airport to bid farewell to the former Prime Minister, and on this occasion, they raised slogans in his favor.
According to officials from the Muslim League (N), Nawaz Sharif will spend a few hours in Islamabad before starting his journey to Lahore. In the evening, he will address a meeting held at Minar Pakistan in Lahore.
(Islamabad51_Newsdesk)