The United Nations World Food Programme reported on Tuesday that the situation in the Gaza Strip is rapidly deteriorating, with only four to five days of food stocks remaining in the shops.
This statement comes as a deepening humanitarian crisis unfolds in the Palestinian enclave of 2.3 million people. Israel is preparing to escalate an offensive following a surprise attack by Hamas on October 7.
Gaza authorities have reported over 2,800 people killed in Israeli bombing, including approximately a quarter of them being children, and nearly 11,000 wounded individuals are in hospitals facing severe shortages of supplies.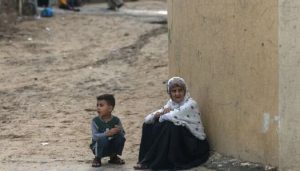 Key developments:
1. The World Health Organization (WHO) is meeting with decision-makers today to urgently secure access to Gaza for delivering aid and medical supplies.
2. The conflict has resulted in over 2,800 Palestinians killed and nearly 11,000 wounded since October 7.
3. Israel has reported that 199 hostages have been taken by Hamas fighters.
4. U.S. President Biden is set to visit Israel, and a Chinese envoy is heading to the Middle East.
Abeer Etefa, WFP's Middle East spokeswoman, warned, "Inside the shops, the stocks are getting close to less than a few days, maybe four or five days of food stocks left."
Additionally, Dr. Richard Brennan, the regional emergency director of the WHO's Eastern Mediterranean regional office, mentioned that they have aid ready to be delivered to Gaza but are awaiting approval to enter the region via the Rafa crossing, a vital route for essential supplies.
(Islamabad51_Newsdesk)