KARACHI: Today, Xiaomi unveiled its latest series of smartphones, the Xiaomi 13T Series, under the name "Masterpiece in Sight." These phones are meticulously designed and engineered to cater to global customers eager to unleash their artistic vision.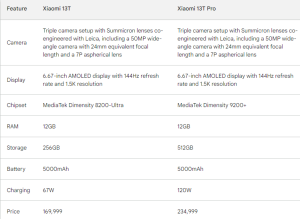 Featuring an advanced performance optimization architecture and long-lasting battery life, along with a crystal-clear display, the Xiaomi 13T Series promises exceptional smartphone experiences for various tasks such as photography, video-watching, and everyday use.
Both the Xiaomi 13T Pro and Xiaomi 13T sport a triple camera setup co-engineered with Leica, featuring Summicron lenses. This setup includes a 50MP wide-angle camera with a 24mm equivalent focal length and a 7P aspherical lens designed to capture more light, supporting high dynamic range photography.
Furthermore, these phones offer 100% DCI-P3 coverage and support for 68 billion colors, ensuring end-to-end compatibility with HDR10+. The Xiaomi 13T Pro and Xiaomi 13T have undergone significant power efficiency enhancements, resulting in extended battery life, providing users with a faster and more efficient smartphone experience.
The Xiaomi 13T is powered by the MediaTek Dimensity 8200-Ultra chipset, renowned for its superb power efficiency and built using the latest TSMC 4nm process, which brings improvements in CPU and GPU performance.
Meanwhile, the Xiaomi 13T Pro runs on the MediaTek Dimensity 9200+ chipset, boasting a fast Octa-core CPU capable of speeds up to 3.35GHz. It also features an Arm Immortalis-G715 GPU, enhancing image processing and ensuring smooth gaming experiences without concerns about battery life.
As for market availability, the Xiaomi 13T is now accessible online at Mistore, Corecart, Daraz, and Xiaomi's official sale platform. It will also be stocked in retail outlets across the nation. The Xiaomi 13T Pro will be made available soon.
Xiaomi's authorized distributors include Tech Sirat, Airlink Communications, Smartlink Technologies, Core Tech, Phonezo Impex, and Burque.
The Xiaomi 13T offers one variant: 12 GB RAM + 256 GB storage, priced at 169,999.
Similarly, the Xiaomi 13T Pro also comes in one variant: 12 GB RAM + 512 GB storage, priced at 234,999.
Xiaomi 13T Series Specifications : 
(Islamabad51_Newsdesk)