Taylor Swift's "Eras" tour is set to dazzle audiences in a new way, with a concert film scheduled for release on October 13.
Swift herself excitedly shared this news on her social media platforms, expressing her enthusiasm for bringing the transformative experience of her tour to a broader audience. She even encouraged fans to embrace the spirit of the "Eras" tour by dressing up, donning friendship bracelets, and fully immersing themselves in the enchanting world of her music.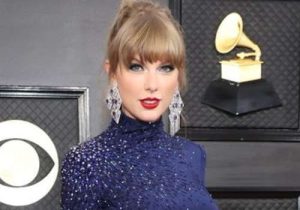 AMC Promises Nationwide Screening
The renowned AMC movie chain has made a bold commitment to ensure that Taylor Swift's concert film reaches audiences far and wide. They've pledged that every one of their theaters across the United States will showcase the film, with screenings scheduled at least four times a day on Thursdays, Fridays, Saturdays, and Sundays. Tickets for this highly anticipated event are already available for purchase, and AMC has taken proactive steps to upgrade its website and ticketing services to handle the expected surge in traffic, which may set new records.
Potential for Ticketing Challenges
While AMC prepares for the film's release, they are well aware of the immense enthusiasm among Taylor Swift's dedicated fanbase. However, they caution that their systems might experience delays and outages due to the overwhelming demand, echoing earlier ticketing disruptions during Swift's tour, which led to a congressional inquiry into Ticketmaster's practices.
Affordable Viewing Options
Despite the steep prices of "Eras" tour tickets, which reached into the thousands of dollars, fans will have an opportunity to experience the concert film at a more affordable rate. Adult tickets are priced at $19.89, with children and seniors able to enjoy the film for $13.13, plus applicable taxes. As of Thursday morning, AMC's website indicated that opening weekend tickets in the New York area were already approaching a sold-out status.
Rescheduling "The Exorcist: Believer"
In response to Taylor Swift's announcement, Universal Studios made a strategic decision to move up the release date of the sequel to the horror classic "The Exorcist" by a week. This move aims to avoid direct competition with the highly anticipated concert film. Producer Jason Blum playfully remarked on the change in the release schedule with a tweet, stating, "Look what you made me do. The Exorcist: Believer moves to 10/6/23 #TaylorWins."
Swift's Global Tour Continues
Taylor Swift, at 33 years old, recently concluded the North American leg of her global tour with a series of captivating shows in Mexico. Her tour is set to resume in Argentina in November, with plans to continue through the end of 2024. With a remarkable total of 146 stadium dates on the agenda, industry publication Pollstar estimates that Swift may very well break the record for the first billion-dollar tour, selling approximately $14 million in tickets per show. Notably, Swift's team does not publicly disclose box office numbers.
Swift's Pursuit of the Billion-Dollar Tour
Currently, the record for the highest-grossing tour is held by Elton John, whose "Farewell Yellow Brick Road" tour, launched in 2018, ultimately grossed $939 million. Taylor Swift's sensational "Eras" tour is on the brink of surpassing this benchmark, marking a significant milestone in her career.