KARACHI: Renowned Pakistani actress Sajal Ali, celebrated for her exceptional skills and captivating portrayals, is set to receive the prestigious "Tamgha-e-Imtiaz" award. This recognition will be bestowed upon her by President Arif Alvi during the investiture ceremony scheduled for Pakistan Day on March 23, 2024.
On August 14, a notable announcement was made by the president, unveiling a comprehensive list of 694 Civil Awards. This list encompasses various distinctions, including Nishan-e-Imtiaz (7), Hilal-e-Pakistan (2), Hilal-e-Shujaat (1), Hilal-e-Iimtiaz (26), Hilal-e-Quaid-i-Azam (18), Sitara-e-Pakistan (1), Sitara-e-Shujaat (20), Sitara-e-Imtiaz (60), President's Award for Pride of Performance (70), Sitara-e-Quaid-i-Azam (3), Sitara-e-Khidmat (4), Tamgha-e-Shuja'at (24), and the notable Tamgha-e-Imtiaz (458).
This significant civilian accolade underscores Sajal Ali's remarkable contributions to the acting realm over the span of a decade. As revealed in an official statement issued on Wednesday, her unparalleled talent has left an indelible mark.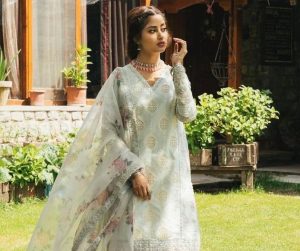 Sajal Ali's on-screen presence exudes effortless command over the camera. With a career spanning over ten years, she has proven to be a powerhouse, possessing both profound weight and remarkable charisma. Notably, her performances have garnered critical and commercial acclaim that extends beyond Pakistan's borders. Her filmography includes projects like "Mom," where she shared the screen with the legendary Sridevi and Nawazuddin Siddiqui, and her recent Hollywood venture "What's Love Got to Do with It," featuring esteemed actors Shabana Azmi, Lily James, and Emma Thompson. The latter film, produced by Jemima Khan and directed by Shekhar Kapoor, has only added to her global recognition.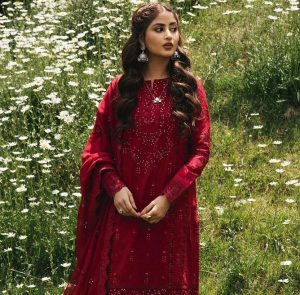 Ali's on-screen versatility is a testament to her skill, evident in her impactful appearances in both comedies and dramas. Her career spanning over 14 years has been marked by outstanding achievements, earning applause from worldwide audiences. Noteworthy performances in dramas such as "Nanhi," "O Rangreza," "Yaqeen ka Safar," "Aangan," "Alif," "Sannata," "Sinf-e-Ahan," "Ye Dil Mera," "Chup Raho," "Gule Rana," "Mohabbat Jae Bhar Mai," "Noorulain," and "Kuch Ankahi" have solidified her reputation.
Since 2009, Sajal Ali has captivated viewers with over 40 engaging dramas, 14 telefilms, and 4 films. Her influence stretches across the boundaries of drama and cinema, establishing her as an eminent and boundary-pushing talent in the entertainment world.
(Islamabad51-Newsdesk)