ISLAMABAD: Senator Anwaar-ul-Haq Kakar, a member of the Balochistan Awami Party (BAP), has been designated as the interim prime minister, according to a statement issued by the Prime Minister's Office on Saturday.
This determination follows a second round of consultations between Prime Minister Shehbaz Sharif and Leader of the Opposition in the National Assembly Raja Riaz. A summary outlining the decision has been sent to President Arif Alvi for consideration.
After the meeting, Raja Riaz spoke to the press, saying, "We reached a consensus that the caretaker prime minister would be selected from a smaller province." He added that he suggested Senator Kakar's name for this role, which was subsequently approved.
Following the selection of Senator Anwaar-ul-Haq Kakar as the interim prime minister, Prime Minister Shehbaz Sharif endorsed the summary by affixing his signature.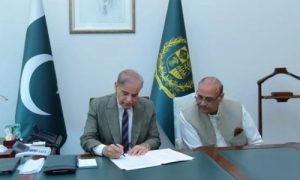 This development comes in response to a letter from President Dr. Arif Alvi addressed to PM Shehbaz, reminding both him and the opposition leader to propose a "suitable person" for the interim premier by August 12 (Saturday).
As outlined in Article 224A of the Constitution of Pakistan, the outgoing Prime Minister and the leader of the Opposition are mandated to put forth a nominee for the position of caretaker Prime Minister within three days of the dissolution of the National Assembly.
President Alvi expressed in his letter to both PM Shehbaz and Raja Riaz: "In accordance with Article 224 (1A) of the Constitution of Pakistan, the Prime Minister and leader of the Opposition in the outgoing National Assembly are required to suggest a suitable individual for the appointment of the caretaker Prime Minister no later than the 12th of August."
Who is Senator Anwaar-ul-Haq Kakar?
The newly appointed interim prime minister of Pakistan, Senator Anwar ul Haq Kakar, hails from Balochistan and is an active political figure.
Senator Kakar, elected to the Senate in 2018, has been deeply involved in Balochistan politics and previously served as the spokesperson for the provincial government before his senatorial tenure.
Renowned anchorperson Hamid Mir mentioned, "Despite his political engagements, Kakar is widely recognized as an intellectual force within the country." Kakar, belonging to the Pashtun Kakar tribe, represents both the Pashtun and Baloch communities.
"Senator Kakar maintains positive relationships with major political parties including PML-N and PPP," Hamid Mir added.
In 2008, Kakar contested the National Assembly election from Quetta as a candidate of the Q-League.
He holds a Master's degree in Political Science and Sociology from the University of Balochistan.
(Islamabad51-Newsdesk)