LAHORE: In a surprising twist of events, undisclosed revelations from the personal journal of Bushra Bibi, the spouse of Imran Khan, the Chief of Pakistan Tehreek-e-Insaf (PTI), have come to light, unveiling her significant role in shaping the nation's political arena.
The leaked entries from the private diary, obtained by a leading Private TV channel, meticulously outline a series of covert maneuvers aimed at exerting influence over key power structures in Pakistan.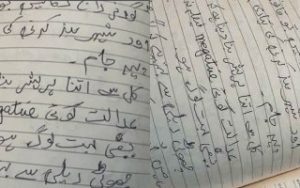 The diary, which has sent shockwaves throughout the country, purportedly contains a meticulously documented record of strategies designed to not only impact the judiciary but also the upper echelons of the military and the government.
Bushra Bibi's calculated efforts to guide Mr. Khan through spiritual practices and persuasive discourse have sparked debates and raised questions about the boundaries of spousal involvement in matters of politics.
Among the most astonishing revelations is the assertion that Bushra Bibi orchestrated a comprehensive plan to shape Khan's mindset through prayer and persuasive communication.
According to the diary, her influence extended to encouraging the PTI chairman to employ assertive and rebellious language in his supplications. This alleged strategy aimed to create an atmosphere conducive to pressuring the judiciary, thereby potentially influencing its decisions in a preferred direction.
Furthermore, excerpts from Bushra Bibi's leaked diary appear to outline her role in shaping PTI's political trajectory. The entries purportedly contain directives from Bushra Bibi to Chairman PTI, specifying language usage and prayer construction, all with the aim of cultivating an environment favorable to PTI's objectives.
The contents of the diary also suggest that Bushra Bibi's influence extended beyond the internal dynamics of PTI. Allegedly, her strategies encompassed methods to exert pressure on both the government and the military establishment, adding another layer of complexity to an already intricate political landscape. The timing and focus of these purported maneuvers indicate a calculated effort to manipulate crucial decisions and actions at pivotal moments.
(Islamabad51-Newsdesk)