ISLAMABAD: In the wake of his conviction in the Toshakhana case, Imran Khan, the former Prime Minister and Chairman of Pakistan Tehreek-e-Insaf (PTI), has been disqualified for a period of five years by the Election Commission of Pakistan (ECP) on Tuesday.
The electoral regulatory body, through an official notification, announced the disqualification of the PTI leader. The decision was reached based on his conviction for engaging in corrupt practices, as outlined in Section 167 of the Elections Act, 2017. Khan has also been sentenced to a three-year prison term.
Consequently, the notification elaborated that Mr. Imran Ahmed Khan Niazi is now rendered ineligible under Article 63(1)(h) of the Constitution of the Islamic Republic of Pakistan, in conjunction with Section 232 of the Elections Act, 2017. Additionally, the ECP has taken steps to revoke Khan's status as the "returned candidate" from the NA-45 Kurram-l constituency.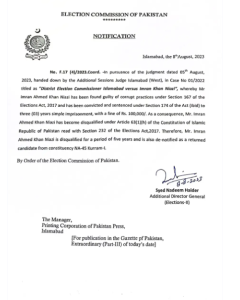 The legal proceedings against Khan culminated in his sentencing to three years in prison and a monetary fine of Rs 100,000. This judgment was pronounced by Additional District and Sessions Judge (ADSJ) Humayun Dilawar on August 5, 2023. The judge found Khan culpable of corruption related to the Toshakhana case, wherein he misused his position as Prime Minister to sell state gifts worth more than Rs 140 million ($490,000) received from foreign dignitaries during overseas visits.
The aftermath of the conviction saw Imran Khan, the PTI chief, transferred to Attock Jail.
Naeem Haider Panjotha, the legal representative for the PTI chairman, contended that his client's conditions in Attock jail are subpar, alleging inadequate facilities within the C-class category. In response, they have lodged a petition in the Islamabad High Court (IHC), urging the provision of A-class amenities for Imran Khan and requesting his transfer from Attock jail to Adiala jail.
Furthermore, seeking legal recourse, the PTI chief approached the Supreme Court to challenge the verdict. On the present day (Tuesday), an appeal was lodged with the Islamabad High Court (IHC), contesting the trial court's judgment and sentencing of the party leader. The appeal seeks a declaration of the judgment as "illegal."
The filed appeal reads, "It is most respectfully prayed that the Hon'ble Court may graciously be pleased to set aside the impugned judgment dated 05.08.2023, and declare the conviction and sentence imposed upon the Appellant to be illegal and without lawful authority, and to acquit the Appellant of the charges framed against him."
A two-member bench of the Islamabad High Court (IHC), headed by Chief Justice Aamer Farooq and Justice Tariq Mehmood Jahangiri, is scheduled to convene tomorrow (Wednesday) to preside over the hearing of the petition.
(Islamabad51-Newsdesk)