At least 34 people lost their lives and several others sustained injuries on Sunday afternoon as multiple bogies of the Hazara Express derailed near the Sarhari Railway Station close to Nawabshah.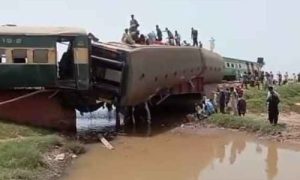 The Chief Minister of Sindh, Syed Murad Ali Shah, confirmed the death toll during his media interaction at the Peoples Medical College Hospital in Benazirabad, the district where Nawabshah is located. He also instructed local authorities and health officials to hasten relief and rescue operations and stated that injured individuals could be transferred to Karachi if necessary.
Dr. Riaz Ahmed Umrani, the deputy medical superintendent at the hospital, corroborated that 30 bodies were brought to the facility. Among them, 21 bodies were returned to their families, while nine remained at the hospital, including the remains of a body stored in cold storage. The hospital provided a list of the deceased, with all bodies identified except for those in cold storage.
Shaheed Benazirabad District Health Officer Dr. Asadullah Dahiri reported that at least 72 people were injured in the accident. According to the Railways and Aviation Minister Khawaja Saad Rafique, the accident happened at 1:18 pm, and approximately 1,000 passengers were on board the Hazara Express, which was en route to Rawalpindi from Karachi.
The accident site depicted chaotic scenes, with numerous vehicles parked on the road adjacent to the track, volunteers assisting the injured by carrying them away from the canal, and various passenger compartments lying overturned or off the tracks. The incident occurred just a day after the Allama Iqbal Express experienced a minor derailment near Padidan railway station, without any reported casualties.
Railway accidents and derailments are relatively common in Pakistan due to the outdated railway system, which covers a substantial distance and accommodates over 80 million passengers annually. Minister Khawaja Saad Rafique vowed to investigate the cause of the accident and confirmed that authorities were mobilized immediately after the incident to provide relief and initiate investigations.
(Islamabad51-Newsdesk)