Kartik Aaryan has unveiled the initial poster for his upcoming project titled "Chandu Champion" and announced the film's release date on his Instagram account.
Directed by Kabir Khan, the movie appears to be a sports drama based on the name and poster. In the caption, the actor, known for his role in "Pyaar Ka Punchnama," declared, "I am not Chandu… I am the champion… #ChanduChampion – 14th June 2024."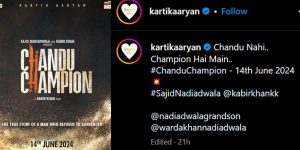 According to Indian Media , the story revolves around the journey of a determined athlete who never gives up. The tagline on the poster emphasizes "The true story of a man who refused to surrender." Filming for Kartik's movie will begin next year, marking the first collaboration between Kartik, Kabir, and Sajid Nadiadwala. In the meantime, Kartik Aaryan is gaining recognition as a rising talent in India. His latest film, "Satyaprem Ki Katha" alongside Kiara Advani, is resonating with audiences and garnering praise in theaters.
(Islamabad51-Newsdesk)