ISLAMABAD: The Higher Education Commission (HEC) has taken a proactive step to safeguard the country's identity and societal values by expressing concerns regarding the celebration of Holi, a Hindu religious festival, in universities.
The commission has directed higher education institutions (HEIs) to distance themselves from activities deemed incompatible with the nation's values.
In a notification released on Tuesday, the commission addressed a widely reported and publicized instance involving the exuberant celebration of Holi at a university. The commission emphasized that this event had caused concern and negatively impacted the image of the country.
The controversy stems from the recent Holi celebrations at Quaid-i-Azam University (QAU) in Islamabad, which garnered attention on the internet. While some praised the display of diversity, others criticized the organizers for allegedly contradicting Islamic values.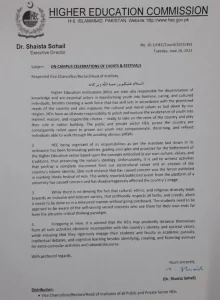 The Holi celebrations at QAU attracted a significant number of students, and a video shared on Twitter captured the festive atmosphere.
Taking into account the extensive discussions surrounding these celebrations, the commission has decided to restrict such events to safeguard the nation's ideology. It asserts that HEIs bear the responsibility of nurturing the youth into learned, mature, and responsible citizens.
The HEC's notification advises HEIs to distance themselves from activities that are evidently incompatible with the country's identity and societal values. However, it emphasizes the importance of engaging students and faculty in academic pursuits, intellectual debates, cognitive learning, and creating avenues for extra-curricular activities and rational discourse.
Expressing disappointment, the commission stated, "Unfortunately, it is sad to witness activities that portray a complete disconnect from our sociocultural values and an erosion of the country's Islamic identity."
While acknowledging the significance of cultural, ethnic, and religious diversity in building an inclusive and tolerant society that respects all faiths and creeds, the HEC emphasizes the need for a measured approach without going overboard.
Additionally, the HEC reminded HEIs to educate students about being cautious of self-serving vested interests who manipulate them for personal gain, diverting them from the altruistic critical thinking paradigm.
In light of these developments, the HEC aims to strike a balance between cultural diversity and preserving the nation's identity and values.
(Islamabad51-Newsdesk)