KARACHI: The British Council has announced the cancellation of all Cambridge school exams scheduled for May 12 in Pakistan.
The decision was made due to the unsafe situation in the country, which has been experiencing political turmoil following the arrest of Pakistan Tehreek-e-Insaf (PTI) Chairman Imran Khan.
The situation has resulted in at least nine deaths, and while the Supreme Court has ordered the release of the PTI chief, uncertainty still remains.
In a statement issued on Thursday, the British Council confirmed that all exams scheduled for both morning and evening shifts on May 12 have been cancelled.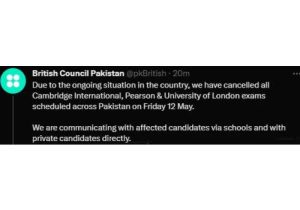 The council also expressed its support for candidates and parents during this difficult time. British Council Country Director Amir Ramzan and Country Director with Cambridge International Examinations Uzma Yousuf both acknowledged the disruption caused by the current situation and assured students that they are doing everything they can to ensure that Cambridge students can continue their education journey without interruption.
The British Council further added that it is actively working with Cambridge to agree on next steps and promised to provide more information as soon as possible. The council also stated that its team is continuously monitoring the situation and will keep candidates updated as they have more information.
The cancellation of exams has undoubtedly caused great distress for students who were scheduled to take the exams on May 12, but the British Council has prioritized their safety and well-being. The council also reaffirmed its commitment to providing a safe and secure environment for students to sit for their exams.
(Islamabad51-Newsdesk)